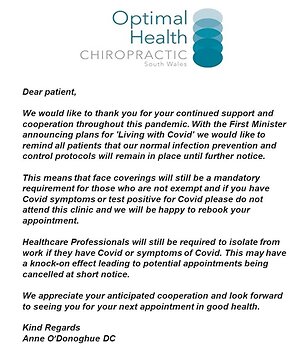 Do you wish to Thrive or merely survive?

From my own personal experience I can understand how debilitating pain and stiffness can be. How it can affect your daily life, preventing you from completing the most basic of tasks, such as sitting comfortably, lifting your children, driving your car or participating in your favourite sporting activity. I offer a friendly, confidential chiropractic service to the local community, to get you back to health, improve the quality of your life and let you fulfil your potential.

My clients vary in age, symptoms and lifestyles. All share a common goal of improved health, function and a sense of wellbeing.
The most common reason for starting care with us are spinal complaints such as low back or neck pain. However I see patients with shoulder issues, headaches, knee or ankle pain, posture concerns and arthritis.

I treat symptoms rather than specific diseases or conditions. Regardless of what is going on in your body, we regularly see people improve in how they experience their condition, with many seeing massive reductions or removal of symptoms, and others experience relief. Commonly people experience more energy, flexibility, faster recovery times and a better ability to handle day to day stress.
Optimal Health Chiropractic (South Wales) is the trading name, for my business. I Anne O'Donoghue am currently the sole practitioner. I cover the Torfaen, Abergavenny and Cardiff areas. I trained at McTimoney College.
I am currently open to treat patients and welcome new patients. I am compliant with all the current infection control guidelines from PHW, General Chiropractic Council and Professional Associations. This will make your visit as COVID safe as possible in the current circumstances. Although Wales has moved to Level 0, Health Care settings are still required to adhere to requesting patients to wear masks / social distancing whilst in clinic and complete a COVID triage assessment prior to all clinic visits. This is for the safety of all those who attend clinic.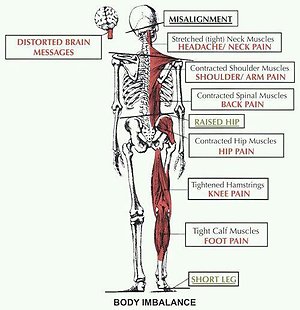 Why should I chose Chiropractic care?
In industrialised countries, up to 80% of the population will experience back pain at some stage in their life. During any one year, up to half of the adult population (15%-49%) will have back pain. The number of people with back pain increases with advancing age, starting in school children and peaking in adults of 35 to 55 years of age. Back pain is just as common in adolescents as in adults.

In most cases it is very difficult to identify a single cause for back pain. In about 85% of back pain sufferers no clear pathology can be identified.

However the following factors are believed to contribute to back pain:

Having had back pain in the past, smoking and obesity.

Physical factors such as heavy physical work, frequent bending, twisting, lifting, pulling and pushing, repetitive work, static postures and vibrations.

Psychosocial factors such as stress, anxiety, depression, job satisfaction, mental stress.

There is considerable published evidence that Chiropractic helps a number of different musculoskeletal conditions. The National Institute for Clinical Excellence (NICE) has published recommendations for GPs and healthcare professionals to offer manual therapies including Chiropractic for early management of persistent non-specific low back pain, as part of a treatment plan.