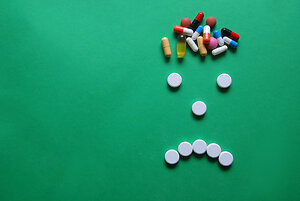 Non prescription medicinal options for those Osteoarthritis pain (Research Based)

In the current circumstances waiting times for those requiring hip or knee replacements are going to be increased for some time to
come. Many health authority are at the current time (May 2021) are forecasting only having capacity for those who require urgent surgery within a short timescale or trauma patients. Currently approximately 1 in 5 of those over 45 have knee OA and 1 in 9 have hip OA. So what pain relief alternatives are available for those who are starting to consider the need for surgery.

Pharmalogical pain relief for those suffering from Osteoarthris (OA) pain (hip / knee / fingers) is often complicated for patients with gastrointestinal issues. This means that many patients are unable or unwilling to take the normally prescribed NSAIDS (Non steriodal Anti Inflammatory agents such as Naproxen, Volterol, Ibuprofen amongst others).

However research has proved that there are now some alternatives which are not contraindicated for those with GI conditions and that have been proved to work in small research studies. Here are the details for you to follow up on. These three products were discussed at a recent lecture by a leading Orthopaedic surgeon as options for treatment of OA pain in patients.

Avocado Soybean Unsaponifiables (ASU)

Scand J Rheumatol 2001;30:242–7
Symptoms modifying effect of avocado/soybean unsaponifiables
(ASU) in knee osteoarthritis
A double blind, prospective, placebo-controlled study
Thierry Appelboom, Joseph Schuermans, Gust Verbruggen, Yves Henrotin4and Jean-Yves Reginster

• Can inhibit interleukin-1 ( IL-1 ) and stimulate collagen synthesis
• ASU was shown to prevent post traumatic OA lesions in a rabbit model
• RCT of OA knee >3month duration - 3 months treatment - 3 groups
1. 86 patients - 300mg ASU,
2. 86 patients - 600mg ASU

Conclusion: The efficacy of ASU at a dosage of 300mg/day and 600mg/day was consistently superior to that of placebo at all endpoints, with no differences observed between the two doses.

https://pubmed.ncbi.nlm.nih.gov/11578021/

Curcumin (Turmeric)

Curcuminoid Treatment for Knee Osteoarthritis: A Randomized Double-Blind Placebo-Controlled Trial

PHYTOTHERAPY RESEARCH Phytother. Res. (2014) Published online in Wiley Online Library (wileyonlinelibrary.com) DOI: 00.1002/ptr.5174
Yunes Panahi, Ali-Reza Rahimnia, Mojtaba Sharafi Gholamhossein Alishiri, Amin Saburi and Amirhossein Sahebkar

Treatment of osteoarthritis (OA) is challenging owing to the inefficacy and long-term adverse events of currently available medications including non-steroidal anti-inflammatory drugs. Curcuminoids are polyphenolic phyto-chemicals with established anti-inflammatory properties and protective effects on chondrocytes. The aim of this study is to investigate the clinical efficacy of curcuminoids in patients suffering from knee OA. A pilot random-ized double-blind placebo-control parallel-group clinical trial was conducted among patients with mild-to-moderate knee OA. Patients were assigned to curcuminoids (1500 mg/day in 3 divided doses; n = 19) or matched placebo (n = 21) for 6 weeks. Efficacy measures were changes in Western Ontario and McMaster Universities Osteoarthritis Index (WOMAC), visual analogue scale (VAS) and Lequesne's pain functional index (LPFI) scores during the study. There was no significant difference in age, gender, body mass index, and VAS, WOMAC and LPFI scores between the study groups at baseline (p > 0.05). Treatment with curcuminoids was associated with significantly greater reductions in WOMAC (p = 0.001), VAS (p < 0.001) and LPFI (p = 0.013) scores compared with placebo. With respect to WOMAC subscales, there were significant improvements in the pain and physical function scores (p < 0.001) but not stiffness score (p > 0.05). There was no considerable adverse effect in both groups. To conclude, curcuminoids represent an effective and safe alternative treatment for OA. Copyright ©2014 John Wiley & Sons, Ltd.

https://onlinelibrary.wiley.com/doi/epdf/10.1002/ptr.5174


Therapeutic effects of turmeric or curcumin extract on pain and function for individuals with knee osteoarthritis:
a systematic review
BMJ Open Sport Exerc Med . 2021 Jan 13;7(1):e000935. doi: 10.1136/bmjsem-2020-000935. eCollection 2021.Kristopher Paultre 1 2, William Cade 2, Daniel Hernandez 3, John Reynolds 4, Dylan Greif 2, Thomas Michael Best 5
Free PMC article

Abstract
Purpose: To determine whether supplementation with turmeric or curcumin extract effects pain and physical function in individuals with knee osteoarthritis (OA). Second, we investigated the therapeutic response (pain and function) of turmeric compared with non-steroidal anti-inflammatory drugs (NSAIDs).

Methods: A search was conducted in MEDLINE, Embase, CINAHL and Cochrane Review. Inclusion criteria included randomised controlled trials reporting pain and physical function in humans with knee OA comparing turmeric therapy with NSAIDs or no therapy. Two reviewers screened 5273 abstracts. Risk of bias and quality were assessed via Cochrane Collaboration tool and CONSORT (Consolidated Standards of Reporting Trials) 2010, respectively.

Results: Ten studies were included in the final analysis. Eight had high methodological quality and two were categorised as good with a mean CONSORT quality score of 21.1. Nine studies had adequate sequence generation and six had adequate allocation concealment. Participants and outcome assessors were blinded in eight studies. Three of the studies compared turmeric therapy to NSAIDs. All 10 studies showed improvement in pain and function from baseline with turmeric therapy (p≤0.05). In three studies comparing turmeric to NSAIDs, there were no differences in outcome scores (p>0.05). In all studies there were no significant adverse events in the turmeric therapy group.

Conclusion: Compared with placebo, there appears to be a benefit of turmeric on knee OA pain and function. Based on a small number of studies the effects are similar to that of NSAIDs. Variables such as optimal dosing, frequency and formulation remain unclear at this time.

Boswellia serrata (tree) resin - Indian frankincense

A Double Blind, Randomized, Placebo Controlled Clinical Study Evaluates the Early Efficacy of Aflapin® in Subjects with Osteoarthritis of Knee
International Journal of Medical Sciences 2011; 8(7):615-622 Research Paper
Amar A. Vishal ,, Artatrana Mishra,, Siba P Raychaudhuri

Aflapin® is a novel synergistic composition derived from Boswellia serrata gum resin (Indian Patent Application No. 2229/CHE/2008). Aflapin is more efficacious as an anti-inflammatory agent compared to the existing Boswellia products, 5-Loxin and traditional 65% Boswellia extract. A 30-day, double-blind, randomized, placebo-controlled study was conducted to validate the efficacy of Aflapin® in the management of clinical symptoms of osteoarthritis (OA) of the knee (Clinical trial registration number: ISRCTN69643551). Sixty eligible OA subjects selected through screening were included in the study. The subjects received either 100 mg (n=30) of Aflapin® or placebo (n=30) daily for 30 days. Each subject was evaluated for pain and physical functions by using the standard tools (visual analog scale, Lequesne's Functional Index, and Western Ontario and McMaster Universities Osteoarthritis Index) at the baseline (day 0), and at days 5, 15 and 30. A series of biochemical tests in serum, urine and hematological parameters established the safety of Aflapin. The observations suggest that Aflapin conferred clinically and statistically significant improvements in pain scores and physical function scores
in OA subjects. Aflapin provided significant improvements in pain score and functional ability in as early as 5 days of treatment. In conclusion, our observations suggest that Aflapin is a safe, fast acting and effective alternative intervention in the management of OA.

The following are not currently advocated for OA and not supported by current research.

* Paracetamol - meta-analysis had shown little effect in OA
* Oral or transdermal opioids in individuals with OA - international concerns re. devastating potential for chemical dependency posed by opioid medications - strong evidence for limited or no relevant benefit of opioids on OA symptoms
* Topical caspacin, Chondroitin, Vitamin D
* Laser Therapy, Conventional Acupuncture, Electroacupuncture, Electromagnetic Therapies, Mobilization & Manipulation, Nerve Block Therapy, Soft brace, Therapeutic Ultrasound, TENS machine.
* Modified footwear or wedges

Photo credit: 7592051 © dotshock | Dreamstime.com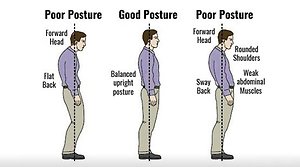 Could posture be affecting your health and mood?
As a Chiropractor I often give talks to groups on posture and health. There is a usually a shuffling of bottoms on seats as people become aware of their posture and attempt to correct it. Why? Whilst we all subconsciously know that posture is important, our increasingly sedentary lifestyles, use of modern computing technology including smart phones and tablets are taking a toll not only on posture but our long term health and well-being.
Posture and depression
There is currently an ongoing debate supporting the link between posture and depression. In the past year there has been a number of research articles linking posture with a range of emotions such as anger and sadness. Findings demonstrate that stooped posture, rounded or elevated shoulders, protrusion of the neck and hyper extension of the knees can lead to an increase in negative thoughts, the increased use of negative emotion words, lower self esteem and sadness. This research is consistent with the theories that posture plays a pivotal role in our emotive experiences. Our spines contain a larger number of emotional receptors than the brain or gut, so perhaps we should not be surprised.
In comparison, good posture is now being considered to reduce fatigue, decrease self focus in people with mild to moderate depression, reduce negative and increase positive mood especially in the face of stress. Thus, your posture can become a strategy for dealing with stress.
Many are unaware of their posture issues but you only have to walk down a typical street to encounter people are walking with heads tilted forward staring into their smart phone, individuals in a defensive posture with shoulder hunched up to the ears, those with neck pain / stiffness resulting in restrictions in their ability to turn their head or popping painkillers for headaches or back pain. Is this you?
As a chiropractor who measures posture as part of my analysis of overall health and wellbeing, I am passionate about posture. I hope reading this makes you to shuffle you bottom on your seat and become more aware of your posture?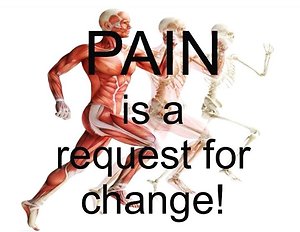 Pain – is it good or bad?
Musculoskeletal conditions can cause pain, and it is the most common reason for people visiting my practice. But what does pain telling us?

Pain is invisible and society is becoming increasing intolerant to pain, many have experienced the frustration that colleagues and family believe they are faking it! How many of us as children or even as adult are told to stop whingeing? Pain is not simply a sensation caused by an injury, inflammation in the body, or tissue damage.

Recent research tells us that you can have pain in the body without anything being any injuries or damage. You can also have "damage" and so called degenerative changes in the body without any pain.

When I ask why do you want to get rid of the pain, their belief is it stopping them from doing what they want to do? My follow-on question is 'what have you learnt from being in pain?'.

As health care professionals we need to listen to patients and understand how their pain influences their daily lives as it can have both a physical and psychological impact. Whilst I help the person manage and understand their pain it is always a two-way process.
At the point when I see people for treatment, often the warning signs that something isn't right have been ignored. Pain and discomfort is the body's way of getting us to sit up, notice that we need to pay attention and do something different. We ignore these minor warning signs at our peril. At the point when we are in massive amounts of pain, your body is forcing you to listen and act. I can help your body to heal but it rarely comes without the need for changes to the way we live our lives. Without listening to our body and making the appropriate changes pain often returns.

We all know of people who walk around with knee, back, or shoulder pain that drastically limits their ability to be active or live a normal life. However, look around you, there are also many people who have some significant "damage" in their body either from congenital defects, degenerative changes such as from arthritis or trauma but who have no symptoms or pain. A cross-sectional study of MRIs done on the cervical spines of 1,211 participants ages 20-70 found that 87.6% of them had a bulging disc without any pain.
In some cases, pain often has more to do with the brain and nervous system than with the actual condition of the tissue. Research shows that those with a higher capacity to control their negative feelings showed the largest responses to the placebo treatments. For these patients techniques such as Neuro Linguistic Programming can be used to help manage the impact of negative emotions on a person's ability to heal.

Is pain good or bad? The answer is that pain is nowhere near as simple as we initially believed.