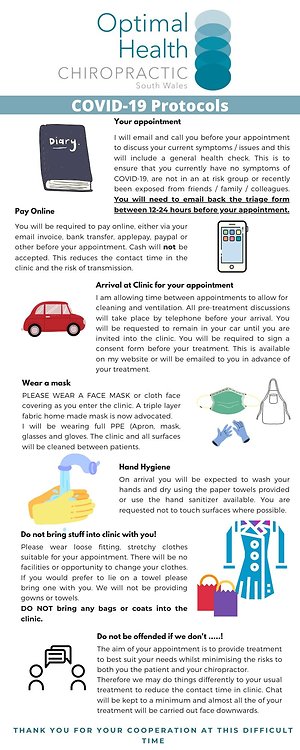 Terms and Conditions for Patients of Optimal Health Chiropractic
Statement of Service: 1st June 2020, can be updated at any point.

1. Optimal Health Chiropractic (South Wales) is the trading name owned by Anne O'Donoghue and provides chiropractic care, associated products and other therapeutic services for the benefit of the general public. The registered address is 71 Ashleigh Court, Cwmbran, NP44 6HG.
2. Practitioner appointments are usually available on 5 working days only in Cwmbran. Except when adverse weather, illness, civil unrest or holidays prevent the Practitioners from working.
3. Telephone messages, texts and emails will usually be replied to within 24 hours, if received during normal clinic hours. There may be an extended delay if adverse weather, illness, civil unrest, holidays or breakdown of the communications network prevents the business from operating.
4. Written communications from clients will normally be responded to within 7 working days. Reasons for any delay will be given within 7 working days.
5. The Practitioner will normally be available at the time agreed for an individual's appointment.
6. If running late, the Practitioner will speak personally to affected clients, giving an estimate of the delay.
7. You will receive a telephone call, text or email 24-48 hours before your appointment to check that the time and date are still convenient.
8. Please note that the Optimal Health Chiropractic reserves the right to charge for missed appointments and late cancellations.
9. Fees and charges will be openly displayed within the premises.
10. If you have any feedback or suggestions for improving our services or premises, please let us know.

Optimal Health Chiropractic requests that clients:
1. Request appointments either by phone or text to 07810707946, or via email: enq@optimalhealthchiro.co.uk.
2. Arrive promptly, ideally at least 5 minutes before the agreed time, so that your appointment can start and end on time.
3. Let us know if you are running late so that we can keep other clients informed and manage our schedule.
4. Let us know if you need an extended appointment due to new injuries or difficulties in moving about so that we can meet your needs appropriately.
5. Give us 24 hours notice if you are ill or cannot attend for any other reason. Remember, there may be a charge for missed appointments or late cancellations.
6. Let us know if your contact details change.
7. Let the Practitioner know of any change in medical conditions, major surgery or new medications prescribed.
8. Pay for all products and services including therapeutic care as agreed with the Practitioner.
9. Note that payment in advance may be required for special order products or where special arrangements for therapeutic care or other services are made. You will be given reasonable notice where this applies.
10. Raise any questions or concerns regarding any aspect of your treatment plan with the Clinic Principal either in person or writing.
11. Understand that chiropractic treatment is not always appropriate and medical or other referral may be needed. This will be discussed with you during the appointment. We reserve the right to charge on a pro-rata basis if a consultation is curtailed for any reason.
12. Pay for preparing a medical report for insurance or referral purposes, these will be charged on a time and materials basis.
13. Respect the rights of our staff. We may choose to inform the police and make arrangements for you to be removed from our patient list. Optimal Health Chiropractic has a zero tolerance policy towards violent, threatening and abusive behaviour.

GPDR - Data Protection and Processing
The Optimal Health Practitioners and team will:


1. Treat all clients with dignity and respect and promise not to discuss or disclose your personal information or business to the wider community.
2. Securely keep a record on paper and/or computer of your medical history, personal details and therapeutic care for a minimum of 8 years after the last treatment (or up to the age of 26 yrs in the case of a child under 18). After this time records will be disposed of in line with current data protection legislation.
3. Provide a copy of your therapeutic record if requested in writing by you.
4. Occasionally send you offers/newsletters or other promotional materials through the post or by email relating to Optimal Health Chiropractic, as agreed with you on your first visit. Please let us know if you change your mind.
5. In the event of Optimal Health Chiropractic closing or the death of the Clinic Principal, a notice will be placed in the local press to inform clients and allow for the collection of client records.